Topex has been keeping good cooperation line with many airlines. With its highly sophisticated logistics center and its modern warehouse facilities around the airport, Topex is able to supply a full range of integrated and effective services.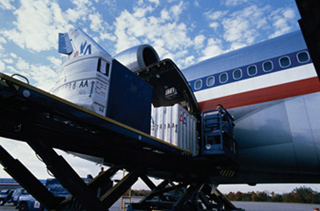 Topex also serves as a master co-loader that enjoys priority standing in securing cargo space from our carriers at the most competitive rates. This also allows us to have regular air consolidation service to / from around the world.
Moreover, our international network offices and agents will ensure that your shipments are delivered in the
shortest possible time at the lowest possible cost.
Topex's competitive edge is complemented by our supplementary services which include:
Customs Clearance and insurance coverage.
¡¤Palletization of cargo.
¡¤Tailoring wooden crates for loose cargo packing.
¡¤Door - to - door trucking service for cargo collection and delivery.
¡¤A team knowledgeable of dangerous goods to comply with AITA requirements in ¡¤relation to handling of cargo shipments.